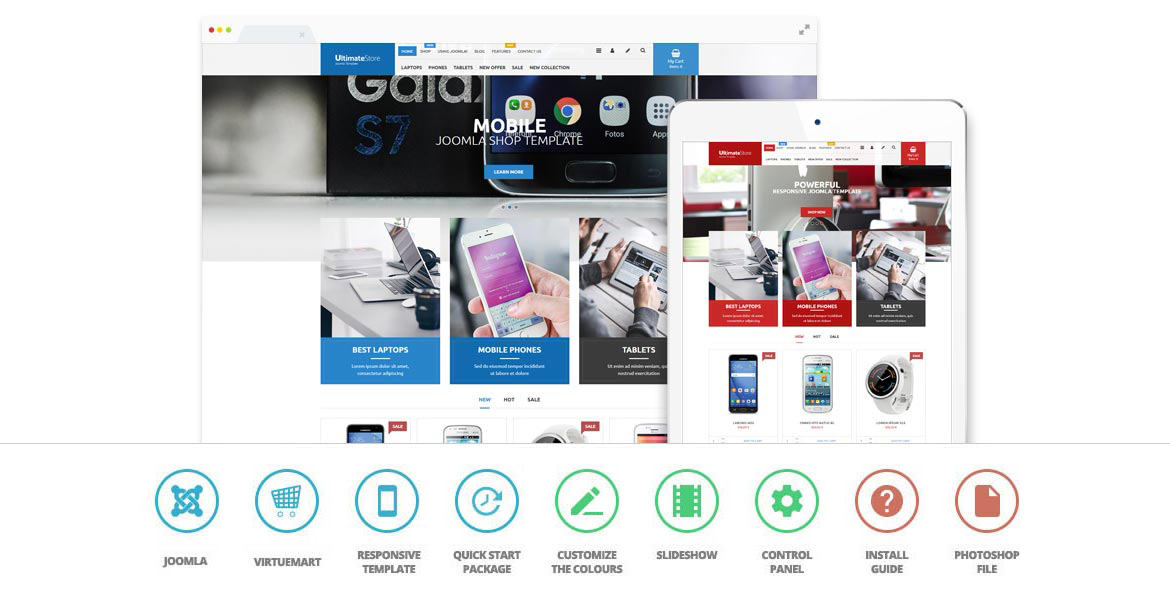 Create a stunning e-commerce website today using the ultimate store Joomla template which comes with everything you need to build a professional, beautifully styled shop for your business. The ultimate store theme is fully responsive to provide your shoppers with a great mobile friendly user experience. The theme is also simple to setup and easy to customize plus it comes with an array of powerful built-in features. Some features the ultimate store supports include an image slideshow, customer testimonials, eye-catching parallax effects, choice of 50 module positions and lots of typography styles for you to choose. Whether you want to open a shop selling mobile phones, computers, fashion or furniture the ultimate store provides you with all the freedom and functionality you need to create an amazing website.
The ultimate store template comes with the following
Ultimate store template for the latest version of Joomla and the virtuemart ecommerce extension
Adobe Photoshop file is included.
Installation guide to install and setup ultimate store design
A wide range of built-in features to choose from to help you easily setup and customize the ultimate store design at your website
Our easy to use, time saving quick start installer package so you can create an exact copy of the ultimate store demo website.
Date Released : August 2017
Ultimate Store Video Demo
Knowledge Base
All the templates we have designed at the website come with lots of built-in features and are easy to use and customize. Visit the knowledge base
Ultimate store template features
Ultimate store is a fully responsive, mobile friendly template which automatically adapts to all devices including computers, tablet and smartphone sceen sizes to provide your website visitors with the best shopping experience at your website.
ultimate store's easy to use built-in template customization tool provides you with the freedom and control you need to change the designs color scheme to help you create a unique website for your business.
You get a choice of six ready made colour theme styles to choose from including blue, green, red, orange, yellow and pink.
The ultimate store template is compatible with the latest version of the virtuemart ecommerce extension which comes with everything you need to open a shop
The latest and featured virtuemart product modules allows you to easily showcase the best selling products at the website.
The built-in product image zoom feature allows visitors to zoom into the product images
The built-in customer testimonials module is really easy to update with your latest customer testimonals.
You get a choice of over 50 module positions to choose from which gives you the freedom and control to publish the modules anywhere at your website.
You get a choice of web safe Fonts and google fonts to choose from.
The built-in image slideshow can be easily updated with your images and text captions.
You get a wide choice of CSS effects to choose from which can be applied to the module positions and menu items.
The Mega menu is simple to update and great for providing your visitors with access to your products and articles
You get a choice of fonts and typography styles to help you easily apply different styles to the text you publish at your website.
The built-in user friendly control panel allows you to update all the features and settings we have built into Light shop for you.
The ultimate store theme is fully compatible with latest version of Internet Explorer, Firefox, Safari, Opera, Google chrome, iOS and Android web browsers.
Ultimate store colour styles & module positons layout
ultimate store comes with six ready made theme styles for you to choose including blue, green, red, orange, yellow and pink
You can also create your own unique colour style for the theme using the user friendly built-in theme customization tool.
Ultimate store control panel settings
All the built-in funactionality the ultimate store template supports can be updated using the user friendly control panel.
For more information about the built-in features the ultimate store theme supports open the control panel screen shots below.